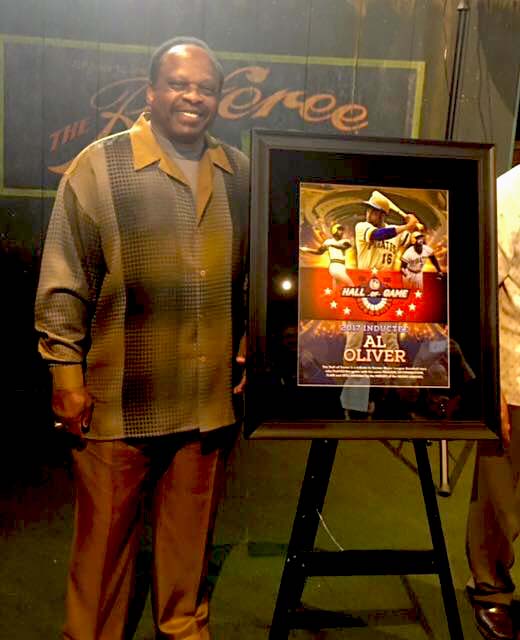 Al Oliver Inducted Into The
Negro League Baseball Museum's
"Hall of Game"
On June 10th, I was honored to be inducted into the Negro League Museum "Hall of Game". 
This meant a lot to me because of several reasons.
The League began because people of color were not accepted in the MLB.
These were the men who set the stage for others such as myself and boyhood friend
Larry Hisle to play in the Major Leagues.
Life's A Hit - Don't Strike Out!
  Al "Scoop" Oliver
      The Man With a Message
      Willie Stargell once told me my gift would be public speaking, because of no notes and speaking from the heart.
As time has moved , another ingredient and just as important, I have lived it. Life has dealt me some serious blows but I have stood a midst them with confidence and steadfastness.     
Simply put, give me a bat and I will deliver. Give me a platform and I will deliver.
Always looking for a platform where I can help someone to be positive in a negative society or situation, and at the same time motivating myself.     
That is my Goal and my Gift.
"Let the 1971 Pittsburgh Pirates prove to all that if your hearts and minds are in the right place, religion, or national origin doesn't matter, if your goals are in common, and you are about what's right." Al Oliver
This site is about winning. Winning on the field and winning in life.  Everyone has a part in the games to play. Do yours with the best of your ability, and you will hit it out of the park.
My official website is my way of staying connected to the people who have graciously supported me throughout my career, and my life. 
Here you will find out about Al Oliver, the exceptional athlete, but more importantly about Al Oliver the Man.  
Principles and integrity are what I live by, faith in God is what I stand on, and giving back to my fans is what I'm doing.  

Hope you enjoy the site.
Services Al Oliver Provides
Click here to catch Al Oliver at one of his Up-coming Appearances.
Learn about the Hot Topics that Al Oliver is speaking out about.
Al Oliver makes a stand. Find out what Al is advocating.
Follow Al Oliver's schedule.
With an all time batting average of .303, Al Oliver is the authority on getting the hits! Al is available to share his expertise with others who want to improve their batting skills and techniques for a better game.
Al will conduct batting clinics for groups and offers individual one-on-one coaching. Al Oliver makes his clinics fun and informative! You will see a difference in your game after getting the "scoop" with "Scoop"!
Be sure to catch Al Oliver at one of his autograph signing events. Get you favorite piece of memorabilia signed to make it even more valuable. 
Or send you information in so that Al Oliver can sign it an return it to you. Make sure you indication the proper name and address for the merchandise. 
Absolutely no one gets turned down.
Al Oliver offers his time as a mentor to youth around the country.
He wants to share and let our youth know that someone cares about them and that they, too, can achieve the
"American Dream."
The year of 2014 was a enjoyable year in many ways.Although on April 28th I lost my brother Jim at age 58. God is still good.He now has no more pain. He was my best friend and biggest booster.
In 2014 my second book was published and released on Sept. 30th. My first signing came on Sept. 6 in my hometown of Portsmouth, Ohio with a great reception. Got a chance to see some people I had not seen in years,some friends,family,classmates and fans.
Next stop was where my career started Pittsburgh, PA at PNC Park on Sept. 13th. I knew I was respected by the fans, but they showed me beyond my dreams their respect and love for Scoop. I had to come back and did at Jerome Bettis Grille in November. Again then Fans responded.
Then I came back to PirateFest at the Lawrence Convention Center. What was interesting about the PirateFest, the comments that were made. Very positive and sincere. There were many, but two I will mention:
1) I cried when you were traded. I said you were not by yourself.
2) Thank you for the memories.
I said it was a pleasure and fun. The Fan said I could tell by the way you played. That said it all. Thank you Pittsburgh!!.
I had a chance to go back to Arlington. Had not been back to the Park in 20 years. The Texas Rangers organization treated me first class the whole time.
I want to Thank them for their treatment, along with the book signing. Some of the "Al's Pals" group showed up just like "Scoop's Group" in Pittsburgh.
It paid off to hustle all the time. The Fans always got total effort. They have shown me I did.
"Al Oliver"
Many people have asked me why is it important to develop my very own web site, and the motivation behind it.
After giving it some thought, I decided to address this question by formulating my very own mission statement.
Not only do corporations have a mission statement from which the foundation of the company is built, but as an influential public sports figure, it is important for me to let people know what inspires and provokes me and what we can strive for — together.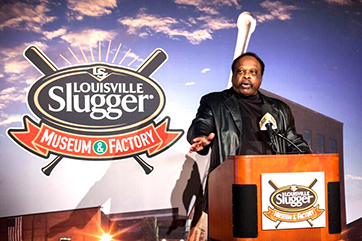 I, Al Oliver, pledge to give personal, emotional, and spiritual
development to youth and adults for a positive, life attitude as
productive and compassionate citizens.
"AL OLIVER WILL SHARE — THROUGH PUBLIC SPEAKING,
THE SKILLS DERIVED FROM HIS CAREER IN PROFESSIONAL BASEBALL AND
PERSONAL GROWTH, TO ENRICH THE LIVES OF PEOPLE THROUGHOUT THE
WORLD BY HELPING THEM DEVELOP HIGH MORAL STANDARDS, WHILE
DEVELOPING HIGHER SELF-ESTEEM FOR PERSONAL AND COMMUNITY
ENRICHMENT."
Bio - Read Al Oliver s Bio
After spending twenty-two years in professional baseball — eighteen of those in the Major Leagues — I am now prepared to move on to a more challenging goal: working with people in our society and the world for a better quality of life.
Combined with my early life experiences growing up in southern Ohio supporting a twelve-year-old brother and a younger sister, and my long career as a professional athlete, I have been instilled with great confidence, the value of sharing, and a strong sense of responsibility.
Nourished with a strong belief in God and strict discipline, I was taught as a youth to be a self-motivator. My parents set a standard of high self-esteem, and urged me to quest for a high and ethical standard of living.
Unfortunately, I lost my mother when I was just eleven-years-old, and neither of my parents lived long enough to see me carry out their hopes. September 14, 1968 is the day I found out I was being called to the Major Leagues. Ironically, on the same day, I lost my Dad.
The loss of my parents also gave me first-hand experience in dealing with the challenges of raising children. I "parented" my pregnant teenage sister, and a younger brother who suffered from anger, depression and unresolved grief at the premature loss of our parents.
During my travels as a professional athlete, I have also seen the problems and needs of various people and cultures. I have seen the damage to sports programs, schools, and homes that drugs, teen pregnancy, teen suicide, juvenile delinquency and a host of other family crises, cause.
Although I was able to prevail in a highly-competitive career with consistency while maintaining the high standards and self-esteem, my parents forged in me — I never hesitate to set aside time for people who need motivation and encouragement. People need hope, and individuals who are concerned and willing to try, can make a difference.
I KNOW that I can make a difference through al-oliver.com, Al Oliver Enterprises, Inc., and as a dynamic public and motivational speaker — but mostly, through my desire to remain an achieving individual, with faith and with the heart to help others – the values my parents gave me.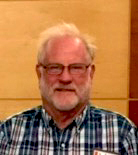 Dan Burkhardt is the main contact person for Al Oliver who have many responsibilities in the Al Oliver organization.  To schedule all the events and appearences for Al Oliver, Dan can be reached at the following number: +1-740-357-2501 
To get merchandise signed from Al Oliver, please send your checks to Dan at the following address: P.O. 314, South Webster, OH 45682
Dan would love to hear feedback from you. E-mail Dan at dburkhardt50@yahoo.com
Albert Powell designs and maintains Al Oliver's website, Al-Oliver.com. As a longtime supporter of Al Oliver, Albert has also been privileged to be a contributor to Al Oliver's new book, "Life's A Hit, Don't Strike Out". Albert is honored to call Al Oliver a "Hall of Fame" friend.
Contact Albert at the following address: P.O. Box 392, Berkeley Springs, WV 25411. E-mail Albert at apowell530@gmail.com  or Visit Website Marketing Machine.
Jon Miller…"I still believe that he's the best out-and-out pure hitter that I've ever seen."
LIFETIME CAREER STATISTICS — AL OLIVER
DESERVING FUTURE INDUCTEE TO THE BASEBALL HALL OF FAME!
Career Highlights
Several baseball fans got together and compiled some career stats from Al Oliver's baseball career.
Here are some of the highlights of Al Oliver's career from September 23, 1968, when he debuted in the Major Leagues, to 18 years later, in 1985. Unfortunately, due to baseball collusion, which bought an end to a career that was destined for the Baseball Hall of Fame, Al was forced to retire.
<<<>>>
During his career, HE RANKED THIRD IN HITS.
This is how his stats compared to other Hall of Famers: # 1 Hitter – Pete Rose with 3,305 hits; #2 Hitter – Rod Carew with 2,903 hits; and # 3 Hitter – AL OLIVER with 2,743 hits.
<<<>>>
During his career, he was baseball's SECOND HIGHEST DOUBLES HITTER – with 529 DOUBLES! He was second only to Pete Rose's 595.
<<<<RBI'S>>>>
During his career, he had 1,326 RBI's. He ranked 4th behind baseball greats: #1, – Reggie Jackson with 1,595; #2, Tony Perez with 1,435; and #3, Johnny Bench with 1,370.
A surprising note and a bit of baseball trivia: There are SIX Major League players, over a span of 41 years — 1950 to 1991 — who were at bat more than 9,000 times, and hold THE HIGHEST LIFETIME batting average.
They are: Rod Carew = .327 Roberto Clemente = .317 George Brett = .308 Hank Aaron = .305 AL OLIVER = .303 Pete Rose = .303
Every BALL PLAYER ABOVE THE RANK OF 5 — AL OLIVER — has been inducted into the BASEBALL HALL OF FAME.
More trivia…
Who was the Major League player who had as many HITS as AL OLIVER and was not inducted into the Baseball Hall of Fame when he left the game?
Answer: Vada Pinson of the Cincinnati Reds with 2,757.
...Watch this page for information about how YOU CAN SUPPORT HIM IN
HIS QUEST FOR RECOGNITION OF HIS TREMENDOUS MILESTONES IN THE
GAME OF BASEBALL.
"HIS RECORD SPEAKS FOR ITSELF."
---
Al Oliver Career Stats:
| | | | | | | | | | | | |
| --- | --- | --- | --- | --- | --- | --- | --- | --- | --- | --- | --- |
|   |   | Games | AB | H | D | T | HR | R | RBI | SB | AVG |
| 1968 | Pittsburgh | | | | | | | | | | |
| 1969 | Pittsburgh | | | | | | | | | | |
| 1970 | Pittsburgh | | | | | | | | | | |
| 1971 | Pittsburgh | | | | | | | | | | |
| 1972 | Pittsburgh | | | | | | | | | | |
| 1973 | Pittsburgh | | | | | | | | | | |
| 1974 | Pittsburgh | | | | | | | | | | |
| 1975 | Pittsburgh | | | | | | | | | | |
| 1976 | Pittsburgh | | | | | | | | | | |
| 1977 | Pittsburgh | | | | | | | | | | |
| 1978 | Texas | | | | | | | | | | |
| 1979 | Texas | | | | | | | | | | |
| 1980 | Texas | | | | | | | | | | |
| 1981 | Texas | | | | | | | | | | |
| 1982 | Montreal | | | | | | | | | | |
| 1983 | Montreal | | | | | | | | | | |
| 1984 | S.F.& Phil | | | | | | | | | | |
| 1985 | L.A. | | | | | | | | | | |
| 1985 | Toronto | | | | | | | | | | |
|   | Totals | 2368 | 9049 | 2743 |   | 77 | 219 | 1189 | 1326 | 84 | .303 |
CAREER STATISTICS
MOST HITS 1968-1985

 

MOST DOUBLES 1968-1985

1.

Pete Rose

 

1.

Pete Rose

2.

Rod Carew

 

2.
Al Oliver

529

3.
Al Oliver

2743

 

3.

Hal McRae

4.

Steve Garvey

 

4.

Ted Simmons

5.

Reggie Jackson

 

5.

Tony Perez

 

 

 

 

 

 

 

HIGHEST BATTING AVG. 1950-1991 7,000 or more AB's

 

HIGHEST RBI's 1968-1985

1.

Rod Carew

 

1.

Reggie Jackson

2.

Pete Rose

 

2.

Tony Perez

3.
Al Oliver

.3031

 

3.

Johnny Bench

4.

Steve Garvey

 

4.
Al Oliver

1326

5.

Bill Buckner

 

5.

Ted Simmons

 

 

 

 

6.

Mike Schmidt

 

 

 

 

 

 

 

HIGHEST LIFETIME AVERAGE 1950-1991 9,000 or more AB's

 

 

1.

Rod Carew

 

 

 

 

2.

Roberto Clemente

 

 

 

 

3.

George Brett

 

 

 

 

4.

Henry Aaron

 

 

 

 

5.
Al Oliver

.3031