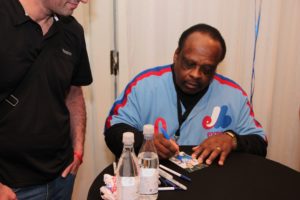 Get Al Oliver Merchandise
Be sure to check out all the merchandise for sale. Make sure you get your Al Oliver memorabilia.
DUE TO THE LARGE VOLUME OF AUTOGRAPH REQUESTS, I HAVE DECIDED TO START ASKING FOR A FEE FOR ITEMS TO BE SIGNED…THANKS FOR YOUR CONTINUED SUPPORT…
BELOW IS THE PRICE LIST:
Now Available: Al's Amazing Book: Life's A Hit, Don't Strike Out – Includes postage, autograph, and personalization, if requested
$30.00
Baseball Cards or Index Cards, etc…
$10.00
8X10 Photos with 1 Inscription
$15.00
Baseball cards with 1 Inscription
$15.00
Sold Out: Al Oliver Foundation Tee-Shirts
featuring Career Highlights on the back
LX sizes are $10 base price
with an additional $1 per "X"

(See Description for special pricing)

Baseball or Mini Helment
$20.00

Baseball or Mini Helment

w/1 inscription

$25.00
Any Incription

$5.00



These are send in mail order prices!!!
Please send a cashiers check or money order to: Dan Burkhardt, PO Box 314, South Webster, Ohio 45682.
(No personal checks please)
For items to be returned, please include proper return postage.
Special Note: NO Bats, Jerseys, or oversized items
THANK YOU, AL OLIVER